Congratulations, you're registered for the summit.
An email will be sent shortly with your login details.
We want you to be part of one of the biggest crisis communications virtual events of 2022! Let your friends and colleagues know you're attending.
Download your personalized graphic below
Tip: On desktop, right-click on the graphic and click save as, on mobile tap and hold the graphic to save.
Share it on social media – Use the hashtag #CrisisCommsMastery and let the world know you're coming!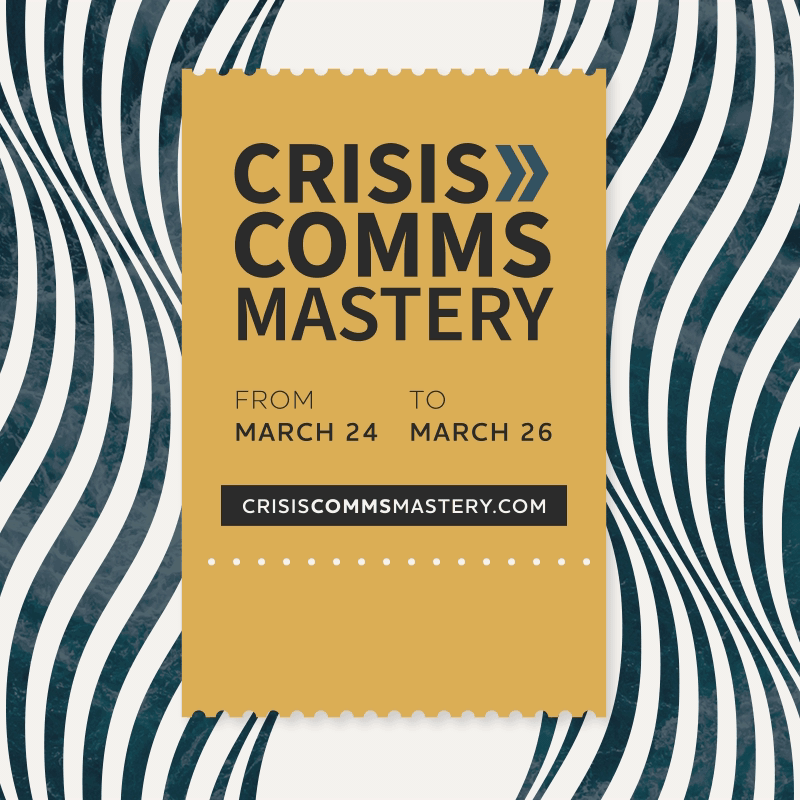 Share the summit with friends and colleagues so as many people can benefit from this as possible!
Great! So what's next? 
Upgrade to an

 

All-Access Pass

 

for lifetime access and a ton of amazing bonuses (more on this below)
Look for your

 

welcome email

 

in about 10 minutes (check your junk folder if you don't see it by then)
Okay, but what is an All-Access Pass?
Not to be dramatic, but it's freedom. Freedom to go back and catch what you missed and revisit what you loved. With lifetime access to the sessions you can:
Catch what you missed
Over 20 sessions is a lot to fit it into 72-hours. With the All-Access Pass you can watch any session anytime, without limit. Instead of having to be selective, say yes to it all.
Revisit what you loved
With an All-Access Pass, you know that your favorite sessions will be waiting for you whenever you need a knowledge refresh or want to revisit an insight.
Enjoy the bonuses
If getting access to the knowledge of 30+ industry experts isn't enough, with the
All-Access Pass you'll also receive hundreds of dollars' worth of exclusive bonuses.
What you get with your All-Access Pass
Unlimited access and amazing bonuses
Lifetime access to all the sessions ($297 value)
Say yes to it all. Watch and re-watch
to your heart's content.
MP3 recordings of all the sessions ($200 value)
Load them on your phone
to listen and learn on the go.
$100 off your next Bulldog Awards entry
Get the recognition you deserve with a Bulldog Award—and save on your entry fee.
Discount on our next Earned Media Mastery virtual summit All-Access-Pass ($50 Value)
Get an exclusive discount on the purchase of our next Earned Media Mastery virtual summit's All-Access-Pass.
Upgrade now for just

$297

$97
An unbeatable guarantee
Try an All-Access Pass for a full two weeks, 100% risk-free.
Watch all the sessions. Take your time. If it's not everything you hoped it would be, we will happily refund your money and part ways as friends, no questions asked.
Lock in the best price on your All-Access Pass today
Don't wait until it's too late…
Don't wait until the event ends before realizing that, "Actually, I do want to watch that session again." Get your All-Access Pass for the reduced price and guarantee unlimited access to watch your favorite sessions again and again (and again and again and again).